Elastic Stone - Best solution on the market for Price-Quality ratio
Elastic Stone is proud to offer our customers a better siding material than our competitors. How? We are the best company in Canada to provide a complete line of Elastic Smart Stone finishing material.
About Manufacturer:
The Joint venture Israel - Moldova was founded in 2006. Engaged in the latest technologies in the market of finishing materials!
Manufacturer have representatives in many countries across the world - in Europe, Middle East, North America.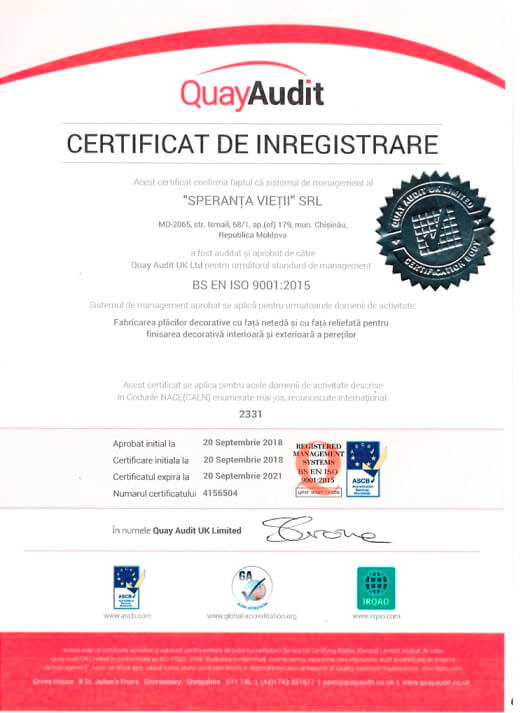 Factory have international certification ISO 9001 and ISO 14001.
Part of the Green Building Association in Israel.
Smart Elastic Stone is protected by a patent and it's designed considering all modern requirements of Ecology and Safety.
Smart Elastic Stone guarantees high quality of finishing works, increase in labor productivity, extension of the period of guarantees for the operation of buildings and structures. Smart Elastic Stone - real revolutionary product in finishing materials!
Our product is:
Aesthetically pleasing
Very light weight
Easy to install
Easy to maintain
The highest quality of our products has ensured a wide interest of all construction units, investors, architects and private customers.
«Smart Elastic Stone" – It's absolutely identical marble imitation in "Antique" finishing and valuable species of wood.
«Smart Elastic Stone" is designed to fully reflect the costly effects of exterior and interior decoration of walls, ceilings, cornices, columns and other complex elements with natural stone and wood.
«Smart Elastic Stone" – multi-layer material, face layer consist of natural marble, right under it an unique technologies.
Thickness - ≈2mm
All the final properties of the stone "Smart Elastic Stone" are acquired only after installation on any surface with the usual glue for ceramic tiles at a rate of about 2.5 kg per sq.m.
Smart Elastic Stone is designed for an economical and qualitative process of finishing works on Interior and Exterior, at any height, for various surfaces (concrete, brick, expanded clay, gypsum board, gas and foam concrete, wood, metal, ceramic tiles, glass, plastic, etc.)
ADVANTAGES OF OUR MATERIAL
Have questions? Call us at (647) 848 8119 or (204) 229 2946